Depuis le lancement de l'aventure Listen Léon, notre égérie Léon le Paon attise la curiosité et suscite interrogations. Ce 25 Décembre est une date précieuse pour vous révéler les dessous de notre nom.
Embody & transform
Travailler à la transformation des organisations et pallier le manque de reconnaissance sont des sujets très sérieux et nous souhaitons proposer un outil ludique pour faire évoluer les mentalités sur le long terme et créer de nouveaux usages. Nous avions donc besoin d'une mascotte pour incarner nos valeurs et ajouter une touche amusante à notre service. Léon est notre paon et nous devrions l'écouter parce que ce qu'il dit est très sensé. 😉 Écoutez le vieux Léon ! Le paon est né pour briller où qu'il soit. Il est majestueux. On a tous un paon à l'intérieur de soi qui doit être réveillé. Et Listen Léon est là pour vous aider : C'est en montrant de la reconnaissance et en étant conscients de nos forces que nous pourrons créer une société plus humaine.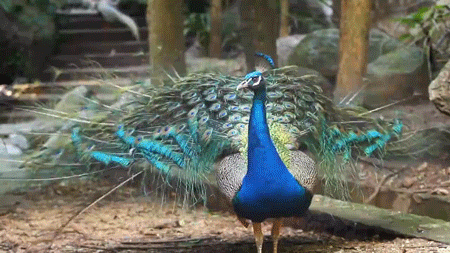 Léon and his wheel of strengths
A myth
Le majestueux train d'un paon incarne notre roue des forces. Ces forces se révèlent à travers le regard des autres, rappelant les centaines d'ocelles sur les plumes du paon. Selon la mythologie grecque, c'est Héra, la femme de Zeus, qui a placé les ocelles sur la queue du paon, en hommage à Argos, son fidèle garde géant et ses 100 yeux. Notre Léon est bien protégé !
And the link to antiquity doesn't stop there: according to Mayan astrology, the best friends of peacocks are those born under the Jaguar Moon and our alpha tester is called... Jaguar Network!
A tribute
Listen Léon was born during a Startup Weekendin the middle of peacocks, ambassadors of the Arbois-Méditerranée Environmental Technology Park in the south of France. Paying homage to our roots was an obvious choice.
"Okay, I get the peacock, but why did you name him Léon?"
An identity
Giving a first name to our peacock allows us to personify it and thus to humanize it a little more. And by listening, the name imposes itself: "Léééééééééooon !". Léon being also a way to underline that we are a French startup.
A hint
Choosing Léon is also an opportunity to make a nod to the "Reviens Léon" initiative (itself having fun of the famous advertisement). Initiative (devenue depuis Wonderleon) lancée en 2015 par les dirigeants de dix start-up voulant inciter les talents français expatriés à revenir et lutter contre le cliché qui faisait de la France le parent pauvre de l'innovation. Une manière de souligner là encore que nous sommes une start-up française et que nous sommes là aussi pour révéler les talents, d'ici & d'ailleurs.
A gift
Listen Léon, allows everyone to reveal themselves in their best light. It is the mirror of each one through the eyes of the others. Now, the mirror (and thus the anagram) of Léon in french is "Noel" (which means Christmas!). It is the most beautiful gift we can give to our employees.
Happy Holidays!
And there you have it, everything, everything, you really know all the reasons that led to this choice. All that remains is for Léon, Marion, Yannick, Pierre & Antoine to wish you a very happy holiday season. Take the time to observe and share what is nice and beautiful around you.