Since the launch of the Listen Léon adventure, our muse Léon le Paon has been arousing curiosity and raising questions.
We explain everything about the choice of the mascot Léon to embody our values.
Embody & transform
Working on the transformation of organizations and compensating for the lack of recognition are very serious subjects and we wish to propose a playful tool to make mentalities evolve in the long term and create new uses. We therefore needed a mascot to embody our values and add a fun touch to our service.
Léon is our peacock and we should listen to him because what he says makes a lot of sense. 😉 Listen to old Léon!
The peacock is born to shine wherever it is. It is majestic. We all have a peacock inside of us that needs to be awakened. And Listen Léon is here to help you: It is by showing gratitude and being aware of our strengths that we will be able to create a more humane society.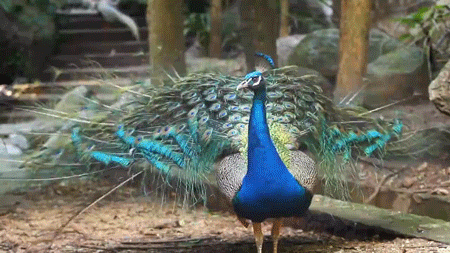 Léon and his wheel of strengths
A myth
The majestic allure of a peacock embodies our wheel of strength. These strengths are revealed through the eyes of others, reminiscent of the hundreds of ocelli on the peacock's feathers.
According to Greek mythology, it was Hera, the wife of Zeus, who placed the ocelli on the tail of the peacock, in homage to Argos, his faithful giant guard and his 100 eyes. Our Léon is well protected!
And the link to antiquity doesn't stop there: according to Mayan astrology, the best friends of peacocks are those born under the Jaguar Moon and our alpha tester is called... Jaguar Network!
A tribute
Listen Léon was born during a Startup Weekend, in the middle of peacocks, ambassadors of the Arbois-Méditerranée Environmental Technology Park in the south of France. Paying homage to our roots was an obvious choice.
"Okay, I get the peacock, but why did you name him Léon ?"
An identity
Giving a first name to our peacock allows us to personify it and thus to humanize it a little more. And by listening, the name imposes itself: "Léééééééééooon !". Léon being also a way to underline that we are a French startup.
A hint
Choosing Léon is also an opportunity to make a nod to the "Reviens Léon" initiative (itself having fun of the famous advertisement). Initiative (now Wonderleon) launched in 2015 by the managers of ten start-ups to encourage French expatriate talent to return and to fight against the cliché that made France the poor parent of innovation.
This is another way of underlining the fact that we are a French start-up and that we are also here to reveal talent, from here & elsewhere.
A gift
Listen Léon, allows everyone to reveal themselves in their best light. It is the mirror of each one through the eyes of the others. Now, the mirror (and thus the anagram) of Léon in french is "Noel" (which means Christmas!). It is the most beautiful gift we can give to our employees.
And that's it, everything, everything, you really know all the reasons that led to this choice.
Prenez le temps d'observer et partager ce qu'il y a de chouette ("Oh non pas encore un animal"🦉) et de beau autour de vous.